We created the knife
for every american angler.
PRO Electric Fillet Knives From American Angler
American Angler Electric Fillet knives are designed with a PRO Series motor and drive train components that deliver two times the torque and four times the lifespan of other, "Heavy-Duty," Electric Fillet Knives. Big bones will never slow you down with the American Angler Electric Fillet Knife. The ergonomic handset with advanced airflow design will  keep your hand cool and comfortable for hours of use.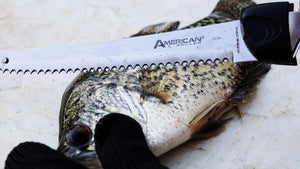 Looking For blades?

American Angler is proud to offer 7 different blade designs to add to your tackle box.

We considered both the size of your fish and how tough they are to fillet when we constructed our blades.

These blades have the perfect balance, flexibility, friction, and length; making filleting faster and easier.



Shop Replacement Blades


Andrew Nordbye Chooses
American Angler Knives.